Thanks to everyone who stopped by yesterday for the ScotchBlue Painting Party and checked out my striped room! If this is your first time visiting my little corner of the Internet, WELCOME! Please take a second to follow me on Twitter and "like" Honey & Fitz on Facebook where I regularly post bargain finds and sneak peaks into upcoming posts and projects.
I'm still away enjoying some family beach time so today I have another great guest post from my blog buddy Sarah of Pewter + Sage. Sarah's blog was a huge inspiration for me when I was starting Honey + Fitz. I participated in one of her Mood Board Monday link parties with this inspiration board and that's it - I was hooked! Today's she got a great post about a topic I think we all struggle with - how to redesign a room to work with our ever changing life needs. Welcome Sarah!
Hi, everyone! I can't tell you how honored I feel to be over here at Honey & Fitz chatting with you guys today. Thank you so much for having me, Dina!!
One of the things I love most about Dina's blog is her nursery posts...those about the amazing room she (and her husband and Nicole) put together for Knox, the beautiful nursery eye candy she's so great at finding, and the wonderfully creative inspiration boards she makes. My little one, Maura, is just like a month older than Knox. (Too bad you're not still up in Boston, Dina, or we could have play dates!) We spend a lot of time in her room together...it used to be nursing, now its bottles (she just turned one, I gotta get going on the sippy cups!) and play time and rocking before a nap...and often when I'm looking around at it I start to wonder. Like, when Maura's a bit older, what stuff from her nursery can we reuse or repurpose for her big girl room?! Sometimes I wonder if it would be ok to completely leave the room as is if my husband and I were to ever have another child and if we were blessed with a girl again. Or does a new baby deserve a new room, even though the old one was awesome (ha, I'm biased!) and they wouldn't know the difference anyways? (Thoughts?) Every once and a while I try and think about how I could convert Maura's room over to a boy nursery if we are to ever be so lucky as to have one. So, let's do it, shall we? Let's see what could stay, what would need to go and what cool stuff I could add to this room to make it work for a little baby boy. It's always nice to dream! Plus, it'll be a good challenge. And I needed something to write about:)
So, just to keep this organized, here's a list of what I think we have in the room that can stay (most of the large, key pieces...which is great - I tried to go gender neutral when we got them, just for this reason):
the floor plan/layout

the paint color

the crib

the dresser

the frames above the dresser

the glider

the ledge shelves

the bookshelf
Here's what I think I would need new for a boy:
bedding

art in frames

lamp

window treatments

rug

stuff on shelves

critter chair
As I started looking around for boy stuff that I liked, I came across this
Vintage map and starry night bunting
from etsy seller moonandlion and was immediately smitten. Would look so cool hanging from the high ceilings in this room. It pretty much set the tone for everything else -
a slight adventure/explorer/travel "theme" in a palette of blues, greens, and a bit of yellow.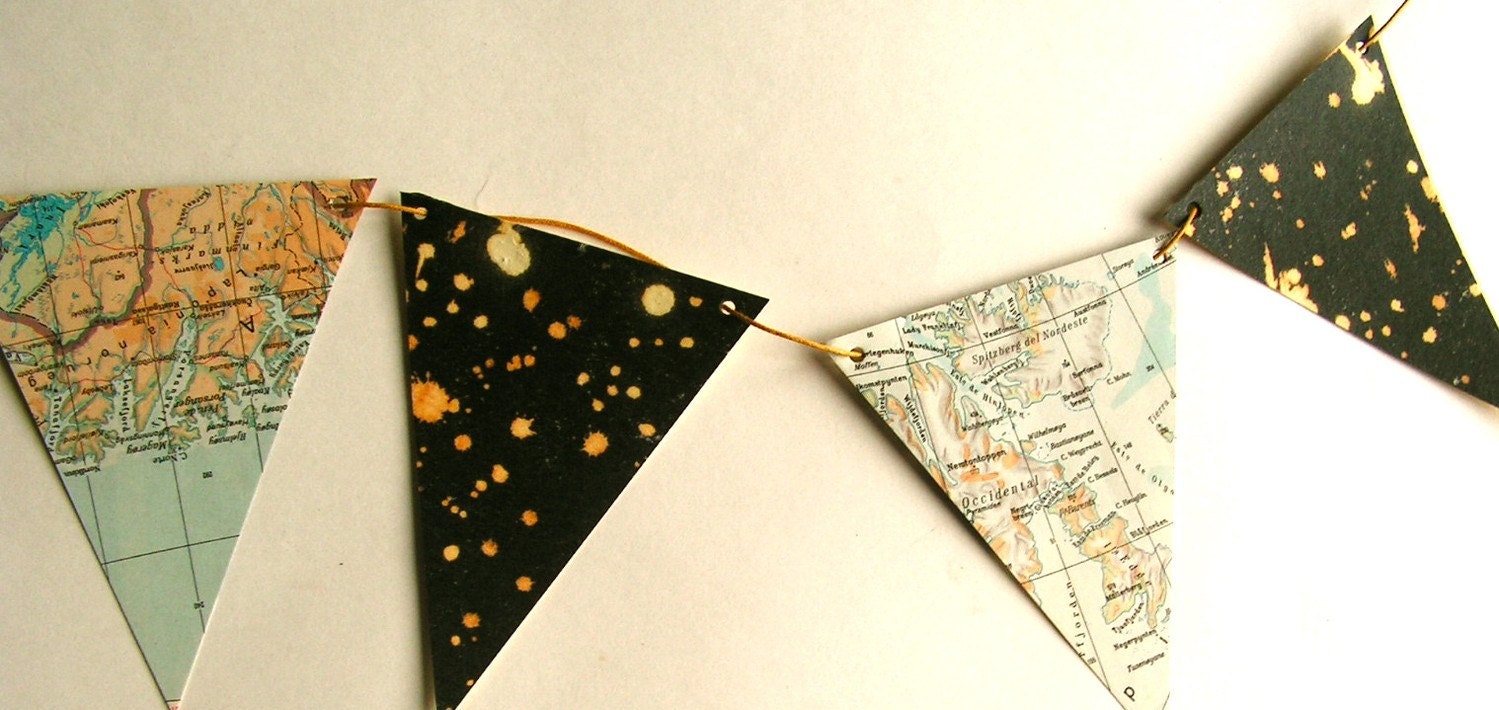 I definitely wouldn't need to repaint. We did the walls (and the angled parts you see here of the sloped high ceiling) in Benjamin Moore's Heaven on Earth (Natura) for Maura and I still looove this blue.
The crib (a hand-me-down...gasp!...from our friends when their daughter moved into her toddler bed) is white and even though it has an arch, I don't think its too girlie. So that can stay.
The imaginary new little guy is obviously going to need new bedding though, so let's splurge on these
Nursery Basics in Chambray with Sprout Star Crib Sheet
from Serena and Lily. I love how the all white linen is simple and crisp. The blue trim detail looks just a shade darker than my wall color, so that will add some nice depth without too much contrast. The green star crib sheet sort of echoes the whole nature lover, get-out-there-and-explore-stuff vibe I'm going for while bringing some green to this part of the room.
I'm really into the alphabet flash cards I hung above Maura's crib so at first I contemplated keeping them (I mean, boys need to learn how to read and stuff, too, right?), but after more careful study, maybe they're a bit too feminine (pastel colors, script font)? What do you think? Plus, I found these really awesome
Star Charts of the Equatorial Sky by George Cram (1892)
on Past Present Gallery. I think they would look great matted and framed hanging side by side above the crib.
Cool. So, we've reworked the crib corner of the room. And its so nerdy, I mean masculine now:) Let's move on to the wall with the dresser/changing table. Our Ikea Hemnes 8 drawer dresser in white is a definite keeper. (I looove this dresser, I'm thinking I'll get another one for Maura when she moves into her big girl room and I might even get one for me in our master!)
The 19th century hand-colored botanicals that I scored at the Brimfield Antique Show, not so much. However, these black frames (coordinating nicely with the black in the starry bunting) with mats can stay, I would just need new art. Enter this sweet Vintage international code flag art from etsy seller bexpert. Used as a way to communicate between ships, each print features a letter, flag and what its specific code means. I love that these are graphic and bold, adventure/travel related (we're a sailing family, so that makes even more sense) and the right colors for the space.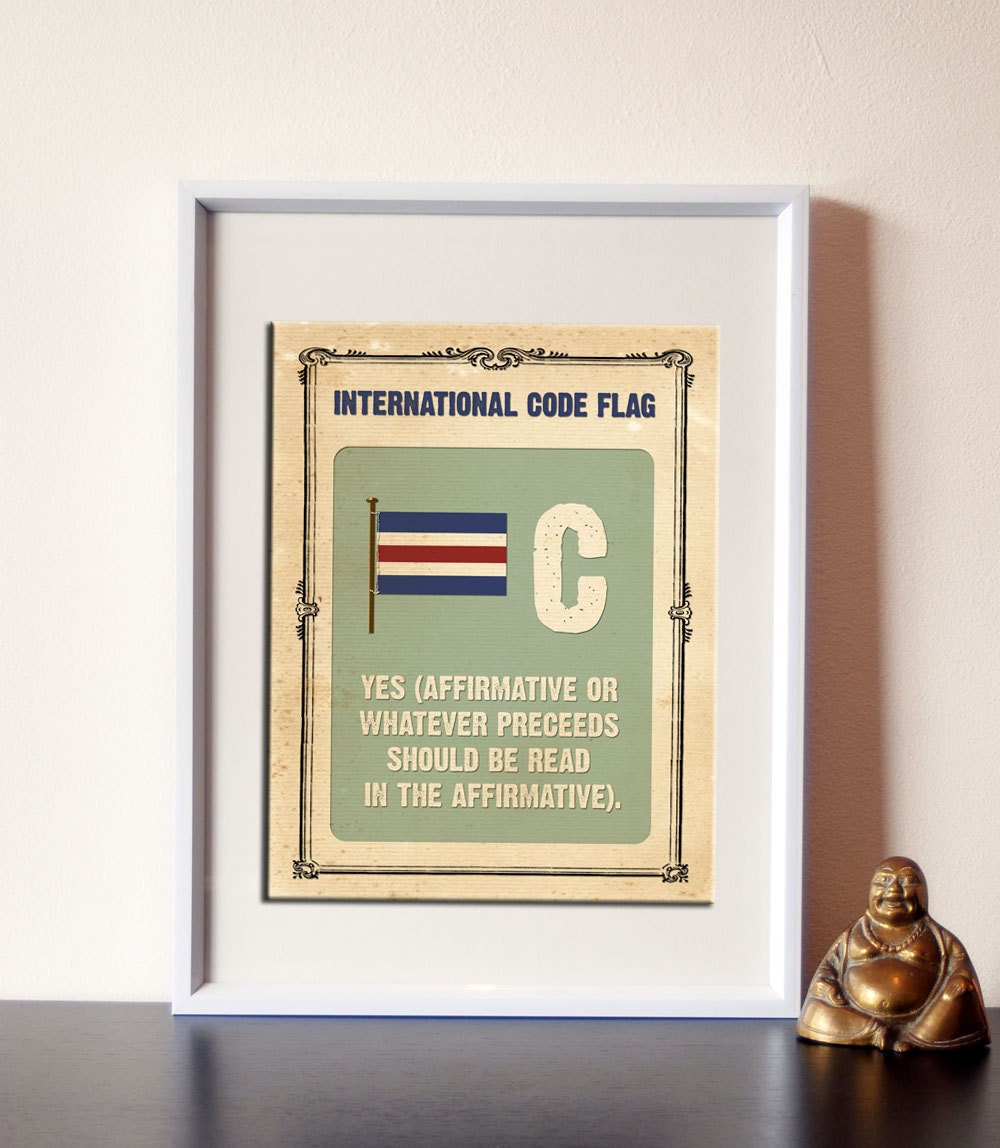 Though these prints are 8 x 10 and the botanicals I have are 5 x 7, its ok because these frames feature two mats. If you take out the inner mat, you're left with an 8 x 10 opening. Perfect. Here's a little mock up I did to show you what the new art would look like. I've chosen here to use the letters "C,D, E, and F", but you could spell out your little guy's name or another word, or use "A, B, C, D" if you don't mind the fact that the "B" flag means "I am taking in or discharging or carrying dangerous goods"!
As for on the dresser, I'd swap out the sea foam lamp I bought at Home Goods with a gift card (send it off with big sis Maura to her new room down the hall) for something in yellow, a fun pop of color, like this Alexis Ceramic Table Lamp in Sundrop Yellow from Pottery Barn.
Over in the other corner of the room is our glider, the Pottery Barn Kids Comfort Swivel Glider with Stone Twill slipcover - totally bought with gift cards converted over from my husband's American Express Corporate points, so completely free! I made sure to get this in a neutral fabric for future kiddos or just to use later in another room in the house, so we're all set there (minus the polka dot quilt that goes with her bedding).
Obviously, the watermelon pink floral drapes (from Land of Nod) are out. Instead, let's use something classic and slightly more subtle, these Green Gingham Panels from Pottery Barn Kids . I like that they bring pattern into the room without being too crazy, and the green will balance out the green tones from the Star Charts on the opposite wall of the room.
Imaginary little man is also going to need a new area rug. (We have wall to wall carpet in this room, but I love having an area rug in there now...it makes a great play spot and adds a bunch of personality to the space.) I immediately went to the Dash & Albert site for one of their striped rugs and after considering a bunch, decided on this Otis Navy one...the dark tone might help ground the room and will work nicely with the navy in our international code flag art:)
On the wall in between the crib and the glider, we have 2 of these Ribba ledge shelves in white.
Some of this stuff could stay, some should go, mostly it would just be fun to redo for a change. One new thing that would look great leaning here is this Pirate love retro letterpress poster from etsy seller handz. Awesome, right?!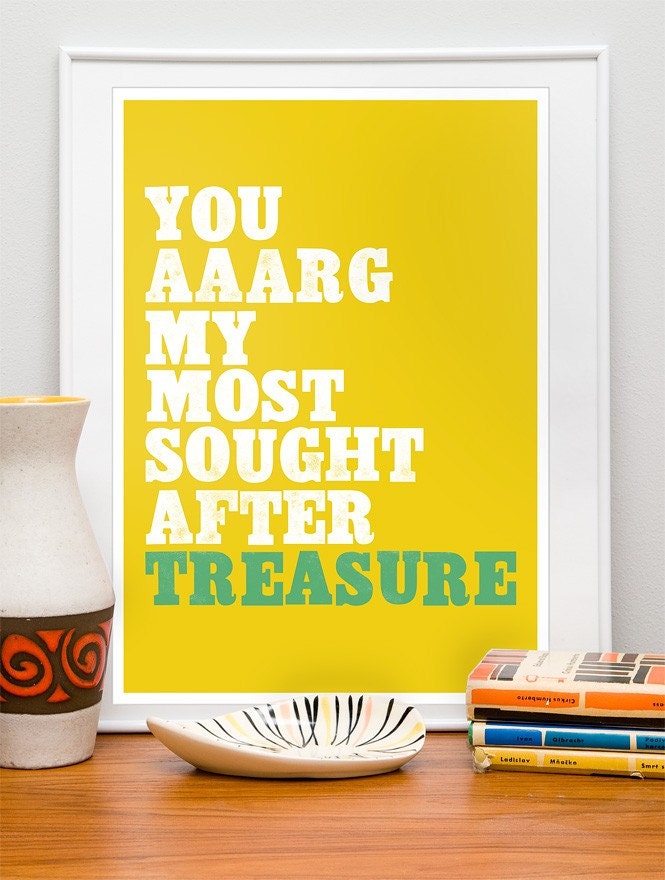 One last thing that I must get for a little guy, if we hopefully ever have one, is his own PB Kids Critter Chair...probably the Hippo in this case because I think we need some more blue in the room. We had such a great time photographing Maura in her Bunny chair every week (for her first year, we just finished!) and I'd love to continue this tradition with our other babies.

So, with a few other accessories (like this yellow ikat throw pillow from milk and cookies) and personal things, I think this room would be pretty killer for a little dude. Just to make sure it all feels good together, here's a mood board of the new space, with both old and new things.
Thanks so much for letting me play pretend! Baby girl clothes are way more fun, but its nice to enter the world of boy for just a bit. Thank you so much, Dina, for letting me hang out!!